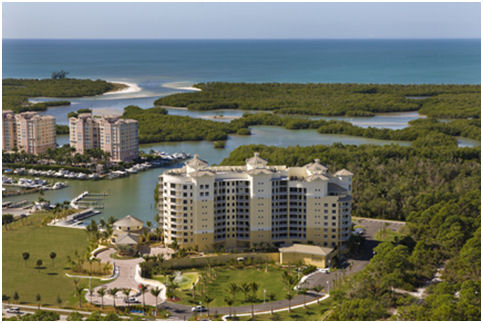 Aqua Naples Fl Bulk sale.
Aqua, the super luxurious High Rise in North Naples fl, closes last month in excess of $34.5M for 35 units and 130,000 sq ft remining and 25 deepwater slips plus 5 acre parcel to construct tower 2 and 35 more Bay-waterfront, oceanview units, a Class AAA Diamond. 3 of my own buyers made offers on the asset to Regions bank from 27M to 38M in 2009 prior to its releases on the open market in 2010.
The project ended up in the hands of its lenders after the project's developer, EcoVenture Wiggins Pass Ltd., filed for Chapter 11 bankruptcy to reorganize in June 2008. The bankruptcy case is ongoing.
Others purchased condos before the first building was completed, but later walked away from their contracts because of market conditions and the developer's financial troubles.
The first building, completed in December 2008, has 48 units/ 28 slips and 5 cabanas. At one time about half of them were under contract. There are no contracts pending, but interest has been growing, Kendall said.
In January, Stratea, a consulting group, was hired by Regions Bank, the lead lender on the project, to handle the sale of the building and its condos.
Five condos were sold at Aqua, generating more than $20 million in sales in 2009 as one off sales.
Buyers include Brad Anderson, the former CEO and vice chairman of electronics giant Best Buy, who purchased two penthouses for $11.75 million in the name of a trust. The penthouses were combined into one condominium stretching about 12,000 square feet.
At the higher end, another sale was made for nearly $4.9 million in March 2009, according to Collier County property records.
The comparable salea at the time of this closing (2010/2011) in my underwriting and analysis of the asset looks like this.
Avg 314 per foot / Bulk sale close at 270 per foot.
Not much off a discount for a class AAA property, if you look at it with one way, vulture glasses but it is a rare find and should exceed mid 20% ROI when tower 2 is built or the land asset is sold off.

| | |
| --- | --- |
| Total Contract Price | Sold Price Per Sq Ft |
| $1,045,000 | $291 |
| $1,569,000 | $396 |
| $1,359,000 | $343 |
| $1,044,000 | $297 |
| $1,495,000 | $327 |
| $1,350,000 | $384 |
| $266,400 | $600 |
| $1,675,000 | $477 |
| $1,250,000 | $315 |
| | |
| | |
| | |
| | $314 avg |
Call Mike Rivera for other off market opportunities. I deal with investors from Canada to Germany and south America and of course local US hedge funds and other investment vehicles.
many of these assets proir too are debt sales and requre the buyer to pay my broker fee. if you do not agree or understand this concept and how it saves you money by provide net offer to the seller and access to the asset. This type of deal is probably not for you.
if you do understand how this works please provide your brochure on your company it's structure, how it is financed and maybe an example of recent closings. which shows performance.
Contact Mike Rivera for more information on the above assets. or other Naples fl condo bulk sales.
Mike Rivera,
Investment Real Estate Analyst
Star Capital Group
Naples Fl
954-957-3134 Office
239-770-6257
Mike Rivera, Ferrer & Associates,LLC